NATIONAL NEWS

A listing of science and knowledge events in New Zealand
Wellington, Christchurch (coming soon)
Plane Breaks the Record for the Longest Flight Ever!
Most people have heard of Airbus planes as they are one of the most commonly used planes by commercial airlines, but most don't know they also just created the plane that has broken the record for the longest flight ever! The Zephyr is an unmanned plane that fly's in Earth's stratosphere and has just broken the record after flying for 25 days, 23 hours, and 57 minutes from when it took off from Arizona on July 11. The plane weighs in at only 75kg & harnesses the suns rays to power motors that drive its two propellers, a system that allows it to operate entirely on solar power. At night, the vehicle relies on power stored by its onboard batteries during daylight hours. Read more on the years of work going towards this success story here.
Thanks to Malcolm Wheeler for the link
ALERT

Explore, Discover, Share with us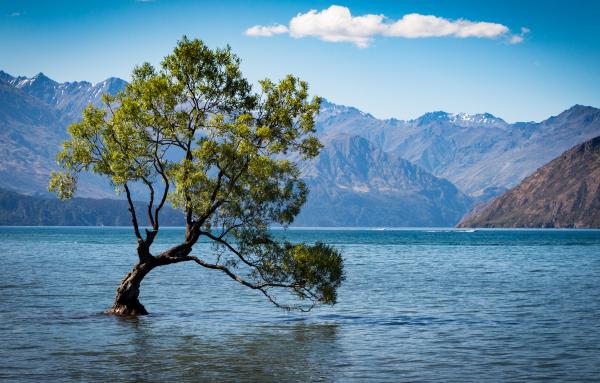 Too much snow for Wanaka? (and not the alpine kind)
Wanaka and Queenstown are famous for their skifields and booming tourism industry, but their picturesque lakes have begun to suffer from increasing amounts of gooey slime known as 'lake snow'. A group of experts explore the cause of the phenomenon.
Kids earn new award for swamp project

Students in rural Taranaki are the first in Aotearoa to achieve a CREST award through the Participatory Science Platform.

Video: The Life and Times of Supervolcanoes

The video of the 2018 Rutherford Lecture presented by the 2017 Rutherford Medal winner Professor Colin Wilson FRS FRSNZ is now available to watch.
News
12 Questions with Juliet Gerrard FRSNZ: The new Prime Minister's chief science advisor says science can only be one aspect of policy making.
Climate target not viable for NZ economy: Scientists on the IPCC say limiting warming to 1.5°C, rather than 2°C, is necessary.
Explosive lies: How volcanoes can lie about their age, and what it means for us.
Government launches work on new strategy: A new national strategy to address New Zealand's biodiversity crisis will tackle the 4000 native species that are at risk.
RNZ Nine to Noon: Understanding the IPCC climate report and its impact on New Zealand.
RNZ Our Changing World: Banding together for banded dotterels | Over-eating might be in the brain
Events
What Women Want(ed): 16 October, Palmerston North. Presented by Emeritus Professor Margaret Tennant FRSNZ, this talk will reflect upon the package of aspirations for women's lives that came with winning the vote in 1893.
Thomas Cawthron Annual Memorial Lecture: 23 October, Nelson. Sir Jonathon Porritt (UK) will deliver his lecture 'Natural Capital: Re-imagining earth, air, fire and water' following a music performance by the Aphra Trio.
Hidden Dangers: Protecting our health by making food safe: 24 October, Palmerston North; 30 October, Christchurch; 31 October, Dunedin; 1 November, Wellington. Dr Robert Tauxe will discuss how working with partners from 'farm to fork' can make food safer for everyone.
What one-cell organisms usually do in their spare time: 24 October, Wellington. Giuseppe Cortese (GNS Science) is a micro-paleontologist who uses fossil remains of plankton to learn about the past history of our planet.
Climathon Wellington: 26 October, Wellington. For people who enjoy creating solutions to complex challenges that have the potential to create huge positive environmental and economic impacts in Wellington and abroad.
Arts + Climate Innovation - Christchurch: 31 October. A timely conversation with climate scientists James Renwick and Tim Naish FRSNZ with facilitator Sarah Meads and local artists.
Opportunities
Call for Judges and last chance to enter 2019 Ockham New Zealand Book Awards: Publishers and authors who wish to be considered have just under a fortnight left to complete their submissions. Expressions of interest to be considered as judges sought for 2019 awards.
Research Director - AgResearch: Based in Christchurch and reporting to the CEO, the Research Director provides the vision, direction and inspirational leadership of the science engine for AgResearch involving over 400 people.
Quantum Shorts: The Dodd-Walls Centre is calling for entries for the international short film festival which is open to amateur and professional film-makers to tell stories that draw inspiration from quantum physics. The winner receives $1500USD and a feature in Scientific American. Deadline is 1 December.
Conferences
Materialise a Sustainable Future: 23 October, Wellington. The MacDiarmid Institute is holding a one-day discussion about future science for an environmentally and economically sustainable New Zealand.
Water in Canterbury our vital resource: 24 October, Christchurch. A number of speakers will deliver addresses on a variety of water quality issues in Canterbury.
International Conference on Energy and Environment of Residential Buildings: 19-21 November, Wellington. Exchange research ideas, engage with industry and government, and envision what a sustainable urban future will be for housing.
2018 Annual Conference of the New Zealand Ecological Society: 25-29 November, Wellington. The conference will cover all aspects of ecology including large-scale ecology and land management, restoration and reconciliation ecology and predator-prey interactions.
2018 Annual Meeting of the Nutrition Society of New Zealand: 28-30 November, Auckland. A conference for collaboration and cohesion among those working and studying animal, plant and human nutrition. The theme for this year's conference is 'Finding the balance - Te rapu i te pauna'.
Here is the latest Engineering E2E newsletter
IN THIS ISSUE.....
· Employers continue to influence qualification development.
· IFE MoU re-signing.
· Degree apprenticeship update
If you have feedback on any of our initiatives, please send it to engineeringe2e@tec.govt.nz
Copies of all our newsletters can be found on our website http://www.engineeringe2e.org.nz/Newsletter.cfm
Best wishes
The Engineering E2E Team
COOLCOMMSHOTCOMMS
Welcome to our October Issue
Be KIND
It is always sobering to remember that we see events such as Mental Health week 8-14 October, and you will find more information about it below. 2018 is almost over and we are all wondering if we are heading into a hotter summer than last. Good for our industry but adding pressure on you and your businesses. 2018 has been a tough year for many businesses in fact with several significant receiverships adding financial pressure to some members. This is where I say, look after yourselves, dont hesitate to speak up and ask for advice of us and your peers, we all go through bad patches at some stages in our lives or businesses and some cope differently to others. What should not change is how we support one another.
Noise in the Workplace

Noise at work can be harmful to hearing, but hearing loss is preventable if you adopt noise control measures, and create an environment that protects the health of your workers.

The health of your workers is just as important as the health of your business. As a business owner, you have a duty to prevent harm to your workers health. One way that workers can be harmed at work is through exposure to noise.
Research needed to understand construction suicide rate

Site Safe NZ, in partnership with the Building Research Association of New Zealand (BRANZ), announced this week that they will be leading a new, in-depth study to uncover the underlying trends behind the high number of suicides in the industry.
Rochester coronial investigation releases findings

The Coroner has completed its official investigation into the deaths of Barry Purtell and David Lobb. The two men, aged 34 and 52 respectively, died after gases from a refrigeration compressor ignited in the cellar of the Hotel Rochester, Bendigo in June 2014.
Calling all tradies, technicians, and engineers!

We have just started a new membership incentive called Tap a Tradie on the Shoulder. If you can persuade a colleague or friend to join IRHACE and if they do, we will reward you with a $20.00 voucher!!

Its as simple as referring your friend to us, we will send them an application form, once their membership is accepted, well send you a voucher!

Help strengthen our membership by attracting your peers!

Email us at tapatradie@irhace.org.nz
New qualifications for the engineering industry
Technology and automation are rapidly driving change in the engineering sector and our engineering programmes are transforming to better meet the needs of your industry.
In one of the largest and most complex pieces of work ever undertaken by Competenz, the engineering programmes have been reviewed in consultation with industry experts across New Zealand.
Now enrolling new apprentices in programmes leading towards New Zealand Certificates, which will replace the National Certificates.
Podcast highlights HVAC&R Drawdown project

An initiative to apply the Project Drawdown approach to the HVAC&R industry has been highlighted on the Climactic podcast.

Project Drawdown is a worldwide project that lays out a plan to reverse global warming. It has drawn on more than 65 researchers and scientists from 22 countries to identify, research, and model the 100 most substantive, existing solutions to address climate change.
Lessons from Europes HFC phase-down

Reports from Europe indicate the HVAC&R industry is feeling the effects of the HFC phase-down there known as the F-Gas Regulation.
National Events
Managing Employee Leave Seminar - Auckland on Thursday, 22nd November 2018, from 9.00am-11.00am. Location at the EMA Business Hub 145 Khyber Pass Road, Grafton, Auckland. Click here for more details.
SimPRO NZ Roadshow 2018

Monday 15 October - Hamilton
Tuesday 16 October - Auckland
Wednesday 17 October - Wellington
Thursday 18 October - Christchurch
Christchurch Christmas Party- 20th November 2018, at The Vines.
Auckland Christmas Party- 15th November 2018, at the Remuera Club
Give us your thoughts..
If you have any feedback or suggestions, please send them to charlie@irhace.org.nz

Welcome to Real Skills from the Industry Training Federation (ITF), bringing you monthly news from ITOs, industry training and apprenticeships.

Please contact us at the ITF with news tips, feedback or comments.

Industry Training in the media
"Mana in Mahi" a good start
The Governments Mana in Mahi Strengthen Work schemes commitment to industry training is a good start but the Industry Training Federation (ITF) wants to see similar wage support extended to all employers of new apprentices, not just long-term jobseekers.
Any opportunity which encourages more employers to offer training is a step in the right direction, but we dont think Mana in Mahi goes far enough to encourage more employers to invest in tomorrows workforce, says ITF Chief Executive Josh Williams. Read more.
Skills Active speakers at Tuia Te Ako talk about opportunities for Mori in sport and exercise
Skills Active and its 10 fellow industry training organisations, which between them oversee the formal on-job training system of New Zealand, were co-hosts of the conference with Ako Aotearoa.
Students and young people from around Auckland visited the Vodafone Events Centre to check out interactive stands and earn-as-you-learn options for school leavers, while education sector professionals attended a range of workshops and presentations. Read more.
Training integral to our business
Pacific Haulage Ltd knows the importance of investing in their people. Thats why theyve recently enrolled 19 drivers into MITOs training programme that leads to a National Certificate in Transportation of Logs by Road (Level 3). The 15 month programme provides drivers with the knowledge and skills for the safe and efficient transport of logs by road. Pacific Haulage Operations Manager, Steven Kent, says the simple reason why theyre investing heavily in driver training is because they want highly qualified people driving their trucks. Read more.
Careerforce launch new website
Careerforce is pleased to announce the recent launch of its new website: www.careerforce.org.nz. The new sectoral-focussed approach caters better to the nine sectors that Careerforce serves: aged care, cleaning, disability support, healthcare, home and community, mental health and addiction support, social services, urban pest management and youth work.

Qualifications are now searchable by sector, level and subject. This is helpful for employers who are planning their staff training programmes and deciding how to pathway their staff through the qualifications. It is also valuable for trainees looking for a clear career pathway within a specific sector and for those wishing to cross over the sectors.
Skills Active Aotearoa streamlining sign-ups with electronic enrolments
Budding industry trainees in sport, recreation and the performing arts can now enrol online.

Skills Active Aotearoa, the industry training organisation for sport, community recreation, outdoor recreation, exercise, snowsport and the performing arts, has launched a fully electronic enrolment process. The new process will be easier, quicker and more environmentally friendly than the standard paper-based option although the paper-based option will remain available for those trainees who prefer it. Read more.
Putting politics on ice in favour of an alpine career
Liz Nelson is a ski instructor and coordinator for the ski kindy at Cardrona Alpine Resort. As a young student, she thought she was destined for a career in politics, but fate had other plans.
Skills Active Aotearoa, the industry training organisation for snowsport, caught up with Liz recently to find out why she put her politics career on ice. Read more.
Tasty new course on the school menu
The new canapé creation course offered by ServiceIQ is a great way to introduce cookery students to the exciting world of catering. The fun starter will help give culinary students confidence and inspiration to take an even greater interest in a cookery career.

Mastering the art of the mini tart and many other delicious bite-size treats is designed for those studying at Level 3.

ServiceIQ Product Development Manager Phil OBrien, says its a welcome addition to the cookery menu and much more than just a replacement for the cocktail food course that was moved to Level 4. Read more.
BCITO thrilled with NCEA's recognition of Micro-credentials
Micro-credentials, or Managed Traineeships as BCITO refers to them, offer specialised recognition that reflects the increased segmentation of work in the industry.
The Building and Construction Industry Training Organisation (BCITO) is pleased to be involved with the Governments announcement today to recognise micro-credentials within New Zealands regulated education and training system.
Government ministers visited Well Hung Joinery in Ngauranga, Wellington, today where three trainees are currently trialling BCITOs Managed Traineeships in kitchen installations. Read more.
Horticultural apprenticeships highlight career opportunities
A newly launched Horticulture Apprenticeship scheme is an initial step towards alleviating a skill shortage in a sector crying out for capability throughout its supply chain.
Launched at the 2018 Horticulture Conference in Christchurch by the Minister of Agriculture, the Hon Damien OConnor, the Apprenticeship in Horticulture Production was developed by Primary ITO.
Read more.
In order to ensure the building and construction sector continues to enhance New Zealands social and economic performance, we will provide a quarterly update to our key stakeholders on what is coming up. This is the first of these regular updates.
This update gives a broad overview of the branch work programme, the key managers and their responsibilities, and an outline of what is coming up as we aim to transform the performance of the building sector.
Building Controls Update
Consultation on Proposed Changes to the CodeMark Scheme Regulations
The Ministry of Business, Innovation and Employment is consulting on proposals to update and change the Building (Product Certification) Regulations 2008 (the Regulations) for the CodeMark Scheme (CodeMark).
This email contains a stakeholder feedback paper. MBIE invites your written comments on the proposals in the paper by 5:00pm on Monday, 22 October 2018.
This consultation is being undertaken to support work to improve the operation of CodeMark while MBIE develops options for an appropriate legislative framework for building product assurance and certification as part of the review of building product regulation (the Products Review). Consultation on the proposed options for product regulation will be undertaken in early 2019.
To ensure the Regulations are clear and unambiguous, and support operational improvements to CodeMark, MBIE is proposing that:
· all product testing laboratories be independently certified, to ensure the product tests used for CodeMark meet a minimum standard this should ensure all product evaluations are supported by robust evidence

· every PCB has an ISO certified quality system, to ensure there is a minimum standard for all quality systems this should lead to improvements in all PCBs product evaluations and product certificates

· products are evaluated against all relevant New Zealand Building Code clauses including Code clause B2 Durability which is relevant to all evaluations this should clarify the current requirements for product evaluations

· product certificates include more information about a product, its intended use(s), specifications and limitations, and a detailed appendix this will ensure that certificates have all the information needed by those who use them.
MBIE will also recommend Cabinet agrees to update all the references ISO Standards in the Regulations to the most up-to-date version.
We look forward to receiving your feedback on the proposed changes by 5:00pm on Monday, 22 October 2018.
14 September 2018 No. 239
As of 12 September 2018, BEAL Certification Service Limiteds (BEAL) accreditation as a CodeMark product certification body under the Building Act 2004 has been suspended by the Joint Accreditation System of Australia and New Zealand (JAS-ANZ).
The suspension is due to BEAL not meeting CodeMark scheme accreditation requirements. The suspension may be lifted by JAS-ANZ if BEAL resolves the issues that led to its suspension BEAL has been given until 3 October 2018 to resolve the issues.
While suspended BEAL cannot evaluate and certify any new building products. All current CodeMark product certificates issued by BEAL remain valid and can be relied on by building consent authorities.
JAS-ANZ is appointed by MBIE and is responsible for the accreditation and ongoing monitoring of product certification bodies for the CodeMark product certification scheme.
To see a list of current accredited certification bodies visit Applying for CodeMark.
To confirm the status of a product certificate please check MBIEs Product certificate register.
Any questions regarding the suspension of BEAL can be sent to
products@mbie.govt.nz
UPDATE to Fire Safety Design Guide for Residential Community Housing
On 28 March 2018, MBIE published the Fire Safety Design Guide for Residential Community Housing. The document provides guidance for building consent authorities, community housing providers and fire engineers when an alternative solution is used to demonstrate Building Code compliance.
This guidance was developed following stakeholder feedback on the 2012 edition of revised Fire Safety Acceptable Solutions C/AS1-7. The 2012 amendments to the Building Code and supporting fire compliance documents resulted in changes to the performance settings for treatment of residential community housing. These types of homes were classified with the same fire safety provisions as a hospital or prison.
Stakeholders noted this provided a one size fits all approach, without considering the differing levels of care and mobility of occupants in residential community housing and their ability to self-evacuate in the event of a fire.
The 2018 guidance forms a framework for development of an alternative solution and covers specific variations to the Acceptable Solution that are appropriate for residential community housing. All other aspects of compliance are expected to meet C/AS1, C/AS2 or C/AS3 as appropriate or alternatively by specific design to the relevant New Zealand Building Code clauses. It is expected that building consent authorities familiarise themselves with the guidance as it is valid to be used as a framework for an alternative solution.
The guidance is for new buildings and alterations as well as existing buildings undergoing work that requires a building consent in accordance with the New Zealand Building Act. The guidance is a framework for an alternative solution and does not apply retrospectively to existing buildings unless there is building work that is being undertaken that requires a building consent.
This guidance was jointly developed by MBIE, the Ministry of Health, New Zealand Fire Service, Housing New Zealand, Community Housing Aotearoa, New Zealand Disability Support Network, Disabled Person Assembly and a building control officer representative.
Public consultation on the proposed guidance document took place from 17 July to 11 September 2017.
Fire Safety Design Guide for Residential Community Housinghas further information.
If you have any further questions please contact firereview@mbie.govt.nz
Financial Reports
Minutes of AGM
Held by Video/Teleconference Conference
Spark City

167 Victoria St West

Central Business District

AUCKLAND

Spark Connect

16 Walker St

Central Business District

CHRISTCHURCH
Tuesday 20th February 2018 at 7:35pm.
Present

Ralph Boshier, Ian Brown, Bruce Hurley, Levi Martin, Mark McKinney, Ross Muir, Keith Smith, Ross Weir, Malcolm Wheeler, Ian Woodhead

Apologies

Bruce Jensen, Mike Duncan, Basil Orr, Peter Over

That apologies be accepted (Ross Muir /Ralph Boshier).

Passed.

Minutes of Previous AGM

That the minutes of the previous AGM, held on Tuesday 28th February 2017 at 7.30 pm be confirmed as a true and accurate record (Ross Muir/Mark McKinney)

Passed.

Matters Arising

Nil matter arising from the minutes.

Presidents Report

That Presidents Report be accepted (Ross Muir/Malcolm Wheeler)

Passed.

Matters Arising

Nil matters arising from the report.

Secretarys Report

That Secretarys Report be accepted (Bruce Hurley/Ralph Boshier)

Passed.

Matters Arising

The Secretary acknowledged the work of the Spark Foundation and, in particular, use of the video-conference facilities for the meeting.

Financial Report

That Financial Report (refer above) be accepted (Bruce Hurley/Ross Muir)

Passed.

Matters Arising

Nil matters arising from the report.

EARB Report

That Engineering Associates Registration Board Report be accepted (Bruce Hurley/Levi Martin)

Passed.

Matters Arising

Nil matters arising from the report.

Election of Officers

Position

Nomination

Proposer

Seconder

National President

Ross Muir

Bruce Hurley

Ralph Boshier

National Secretary/ Treasurer

Bruce Hurley

Ross Muir

Ian Brown

Auckland Branch Councillor

Ralph Boshier

Ross Muir

Bruce Hurley

Waikato/BoP Branch Councillor

Ian Brown

Mark McKinney

Gavin Petrie

Palmerston North Branch Councillor

Bob ODriscoll

Mark McKinney

Levi Martin

Wellington Branch Councillor

Keith Smith

Malcolm Wheeler

Arnold Darby

Christchurch Branch Councillor

Ian Woodhead

Ex Officio

2nd Christchurch Branch Councillor

Levi Martin

Elected by Christchurch Branch

Dunedin Branch Councillor

Terry Thomas

Ex Officio

2nd Dunedin Branch Councillor

Pending

Elected by Dunedin Branch

There being only one nomination for each position, all positions were confirmed without the need for elections.

Ross Muir advised the meeting, after 51 years on the executive, this would be his last term as President. The meeting acknowledged the significant contribution Ross has made to the Institute.

Appointment of Financial Reviewer

That the current financial reviewer, Jeremy Barrett, be reappointed for the 2018 financial year (Bruce Hurley/Ian Brown)

Passed.




2017 Subscriptions

That the membership subscription rate remains at $20.00 for the 2018 financial year (Bruce Hurley/Ian Woodhead)

Passed.




Cheque Signatories

That the current cheque signatories (Ross Muir/Ralph Boshier/Bruce Hurley) be retained (Ian Brown/Ian Woodhead).

Passed.

Remits

Nil submitted




General Business

The Spark Foundation

That a donation of $50.00 be made to the Spark Foundation in recognition of making the video conference facilities available the meeting (Bruce Hurley/Ian Woodhead).

Passed.

Auckland VHF Group

That a donation of $50.00 be made to the Auckland VHF Group of the NZART in recognition of their continuing support through their standing invitation for Institute members to attend their meetings and access to their magazine, Spectrum (Bruce Hurley/Ian Brown).

Passed.

The reduction of the Auckland VHF Group donation to $50.00 was based on the Institute no longer using the Groups club rooms for the AGM. It is conditional upon the Secretary explaining the situation to the Groups Treasurer.

No further general business.

Closure

The meeting was declared closed at 8:05pm.